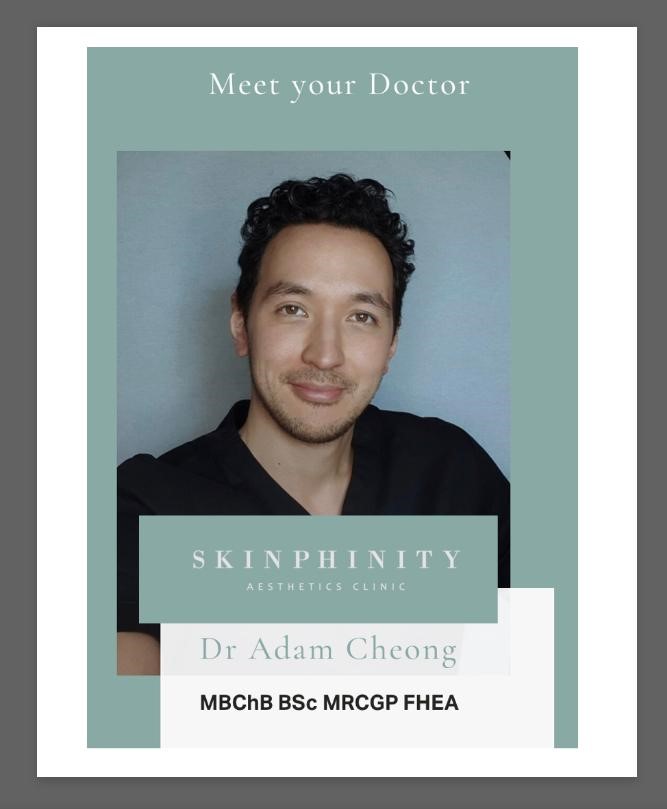 Thursday 14th July
Face Facts Beauty and Body Salon
Experienced in a variety of non-surgical cosmetic treatments, including Botulinum Toxin (Botox), Dermal Fillers, Profhilio and Platelet-Rich Plasma
Dr Adam has particular expertise in…Lip Augmentation, Cheek Enhancement, Non-surgical Rhinoplasty and Tear Trough Treatments…having treated thousands of patients!
Book NOW We can do that for you, by passing on your details? OR feel free to contact him yourself.
About Dr Adam
Dr Adam Cheong qualified as a doctor in 2010 and has worked in the NHS for the past 12 years. He trained in aesthetics in 2016 and then established his own brand in 2017, while also working at one of the country's busiest clinics, Skinviva, in Manchester. He then re-branded his own business and created Skinphinity in 2020.
"I wanted to provide patients with the option to put their skin in the hands of someone medically qualified, who has spent years studying anatomy and beauty, understands the science behind treatments and products, and is held to a higher accountability for patient safety and long-term results."
At Skinphinity, you're not just guaranteed a variety of aesthetic procedures that are natural-looking and confidence-boosting.
Need more info?
Don't be afraid to ask questions! Here are a few commonly asked questions on aesthetics Dr Adam has already taken the time to answer.